---
Programming Taskbook setup
After the Programming Taskbook installation the PT4Setup program is launched automatically. This program allows to register Programming Taskbook and configures Programming Taskbook for available environments. Also it allows to choose the working directory of Programming Taskbook. This program is also available from the Programming Taskbook menu (see "Start | Programs | Programming Taskbook 4").
The PT4Setup window consists of 3 sections, which can be selected by the [Back (F3)] and [Next (F4)] buttons and corresponding hot keys. For exit the program you should press the [Exit] (or [Finish]) button or the [Esc] key.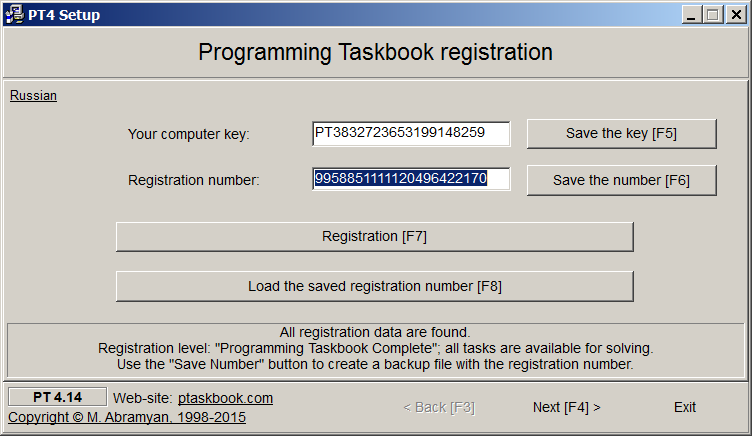 The first section is intended for Programming Taskbook registration.
Also, by means of the "Russian" label you can switch interface language from English to Russian. The current language is saved in the Programming Taskbook settings; it can be changed not only in the PT4Setup but also in the PT4Load (by means its context menu).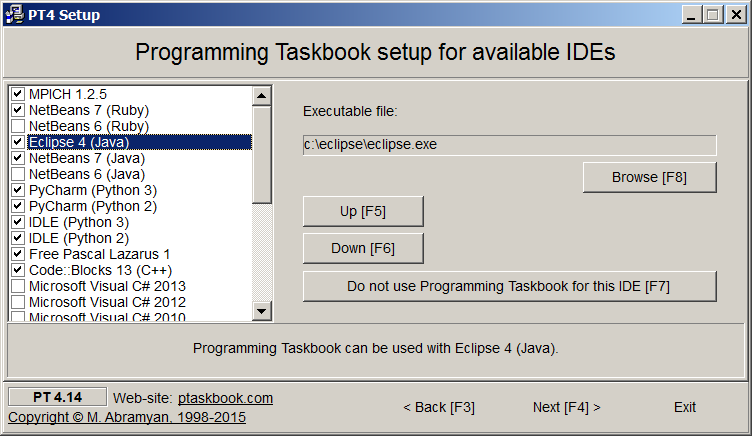 The second section is intended for the IDEs costomizing. If some IDE in the left-hand list is checked then it means that the Programming Taskbook found the executable file of this IDE and the IDE is available for using with the Programming Taskbook.
In the case of unchecked IDE you can try to find the executable file of this IDE manually by means of the [Browse (F8)] button.
For complete removing of some IDE from the IDE list you should press the button with the title "Do not use Programming Taskbook for this IDE (F7)".
You also can change the order of items in the IDE list by means the [Up (F5)] and [Down (F6)] buttons. This order is alse used in the context menu of the PT4Demo and PT4Load modules.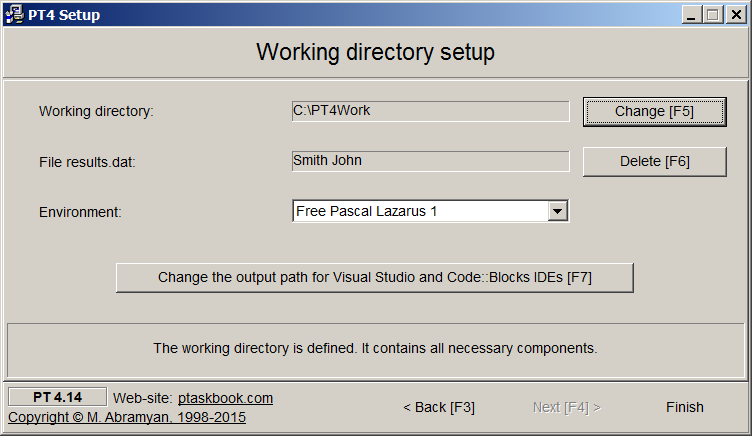 The third section is intended for setting of work directory properties: its name (the default value is C:\PT4Work), the pupil name and the current IDE. The current IDE may be changed also by means of the context menu of the PT4Load module.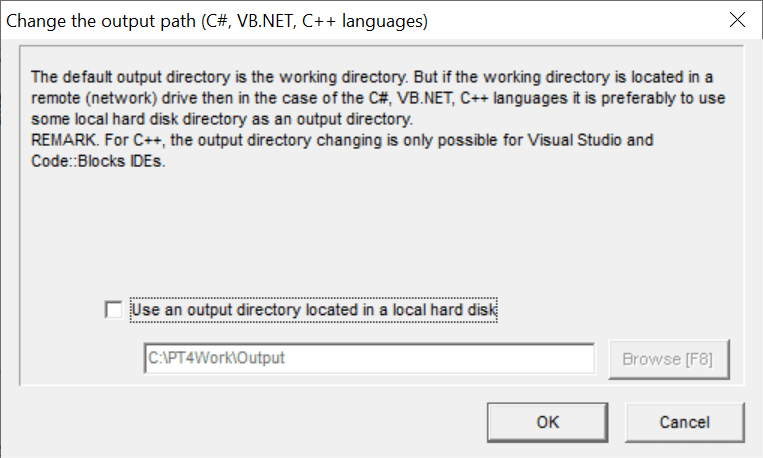 The button with the title "Change the output path for Visual Studio and Code::Blocks IDEs (F7)" changes the path for compiled executable files. This opportunity is useful when the working directory is located at the network drive.
From any section of the PT4Setup you can go to the website of Programming Taskbook by clicking on the "ptaskbook.com" label in the bottom left of the program window.
---